Don't let your busy days hold you back from making gains. These delicious bars and cookies are the perfect option for when you're on the go and need a quick solution to fuel those hard-working muscles.
To help you save time, we've rounded up some of the best protein bar options for muscle gain. Want more? Check out the whole protein bar range here!
Containing a generous amount of calories from muscle-loving protein and energising carbohydrates (carbs) and fats, these protein bars will help you achieve your physique goals in no time!
1. Crave One Bars by Genetix Nutrition Core Series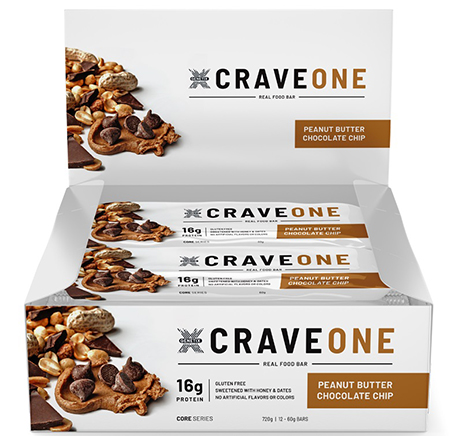 Nutritional stats:
270 Calories
15g of Protein
15g of Fat
3.0g of Saturated Fat
23g of Carbohydrates
18g of Sugar
4g of Dietary Fibre
Crave One Bars by Genetix Core Nutrition Series is the new player in the game!
Crave One Bars are more than just a protein bar. Containing real food ingredients such as almond butter, a Whey Protein Blend, coconut oil and natural sweeteners like dates and honey, you'll have a nutrition-packed option that'll be your helping hand when you're on the run. The balanced macro profile of 15g protein, 15g fat and 23g carbs means that you're getting a well-rounded solution for making solid gains. Plus, each bar is gluten-free, soy-free and non-GMO!
With a smooth and creamy yet chewy texture, these bars will soon become a new fave. With no fillers, artificial sweeteners or preservatives and no added fibres - these real nutrition bars are what you need for unreal results. Shop Crave One Bars by Genetix Core Nutrition Series now!
2. Burn Protein Bars by Maxine's
Nutritional stats based on one serve (1/2 cookie):
255 Calories
11.8g of Protein
12g of Fat
5.6g of Saturated Fat
24.3g of Carbohydrates
8.9g of Sugar
126mg of Sodium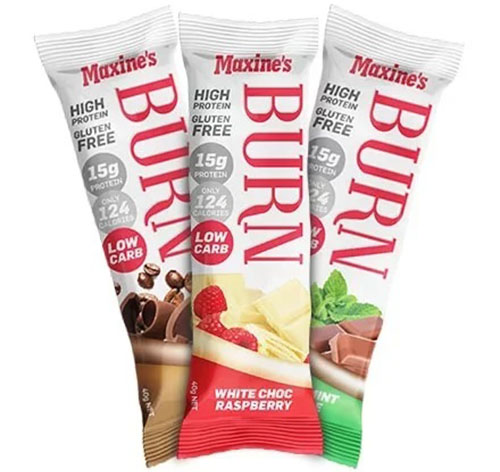 At over 500 calories per cookie, Cookie by The Growth is your ultimate ally for superior gains. If you struggle to gain weight or find it tough to reach your calorie targets every day, Cookie by The Growth is the perfect solution for you.
Containing a mix of complex and fast-absorbing carbs, you'll have muscle-loving fuel to get stronger in the gym and recover better afterwards too. With a chewy and crunchy texture and satisfying flavour, these may just become a staple in your snack cupboard. Shop yours now.
3. MRE Bar by Redcon1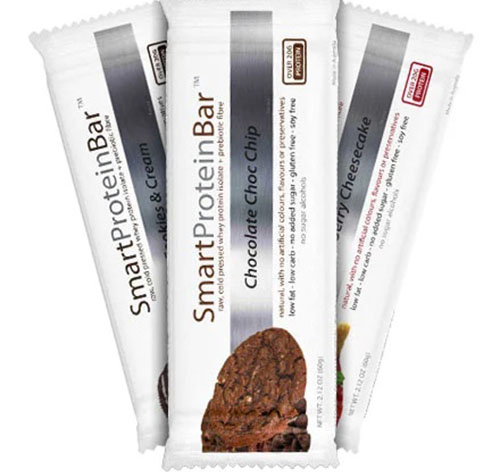 Nutritional stats:
260 Calories
20g of Protein
9g of Fat
5g of Saturated Fat
29g of Carbohydrates
6g of Sugar
3g of Dietary Fibre
The MRE bar is the convenient (though lower calorie) option to the loved meal replacement MRE Meal Replacement by Redcon1.
If you want a bar based on real foods, you've got it. The MRE Bar by Redcon1 Protein Blend contains an impressive mix: Beef Protein Isolate, Salmon Protein, Chicken Protein, Egg Albumin, Brown Rice Protein and Pea Protein. The 20g of multi-source protein is supported by approximately 29g of carbs, some of which include gluten-free rolled oats, dehyrated yam and sweet potato, coconut water power, dried goji berries and dried blueberriues.
Proudly made without sugar alcohols that often cause bloating and gassiness, you'll get the goodness of whole food sources in an easy-to-eat bar. Check out their huge variety of flavours today!
4. Muscle Meal Cookie by Max's Supplements
Nutritional stats:
385 Calories
24.3g of Protein
13.8g of Fat
9.8g of Saturated Fat
39.2g of Carbohydrates
23.1g of Sugar
250mg of Sodium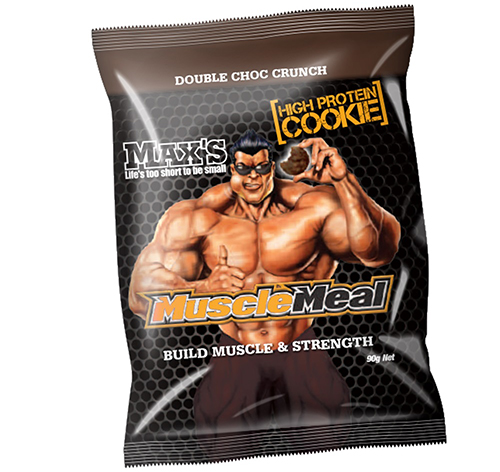 The Muscle Meal Cookie by Max's Supplements stands the test of time as one of Australia's favourite muscle gain protein snacks.
Containing 24.5g of protein sourced from quality Whey Protein Isolate (WPI) and Whey Protein Concentrate (WPC), you'll find an optimal amino profile in each cookie. Plus, Max's have added extra Branched-Chain Amino Acids (BCAAs) and L-glutamine to give your body the recovery support it needs after tearing up those muscle fibres in the gym. With a decent dose of mass-building carbohydrates, you'll have the perfect pre or post-workout solution for building muscle and strength. Get yours today!
5. Complete Cookie by Lenny & Larry's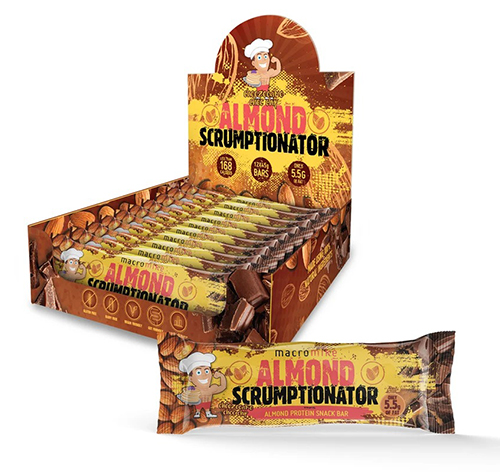 Nutritional stats based on one serve (1/2 cookie):
188 Calories
8.7g of Protein
7.0g of Fat
4.0g of Saturated Fat
24.5g of Carbohydrates
19.2g of Sugar
4.7g of Dietary Fibre
Plant-based eaters, you haven't been forgotten - Complete Cookie by Lenny & Larry's has you covered. Containing a mix of vegan-friendly proteins in The Complete Cookie Protein Blend (Pea Protein Isolate, Brown Rice Protein, Wheat Gluten), you'll find a total 16g of protein in the whole cookie.
With approximately 50g of carbs per cookie, you'll have a way to fuel your hardest sessions, or help your muscles repair and recover after exercise. When you're trying to gain mass, carbohydrates are your friend! Plus, they have 10g of fibre per cookie, Get your complete cookie fix here and remember to check out the whole range of flavours!