Do you ever see those large guys at your gym downing a post-workout shake and wonder what is in that mysterious muscle-growing milkshake? Well, hang tight... I am about to reveal the best protein powders to help you gain size and improve your performance in the gym.
If you have been trying to gain muscle for a while, you will understand just how hard it actually is, especially if you have a fast metabolism. If you're just starting out at the gym, it's time to take advantage of those newbie gains and start lifting. Eating in a calorie surplus while following a strength-building training program will help you gain muscle, and a quality protein powder will be the cherry on top!
In case you weren't already aware, lifting weights will create tiny tears in your muscle fibers and your body requires a substantial amount of protein to recover and rebuild damaged muscle tissue. This is why the hype around protein is real.
How much protein should you eat per day?
Research shows that consuming anywhere between 1.6-2.4 grams of protein per kilogram can help maximise muscle growth. For an average 75kg male, this means consuming around 120-180 grams of protein per day. Here are some of the best supplements to help you reach your protein target and pack on some rock hard mass:
Critical Mass by Genetix Nutrition
If you are looking to put on lean muscle mass, Critical Mass by Genetix Nutrition is the protein powder for you.
This protein powder contains a premium blend of protein and a comprehensive blend of carbohydrates to support energy requirements in the gym as well as muscle recovery post-workout.
With 33.5g of protein per serve, Critical Mass by Genetix Nutrition will set you up to reach your daily protein intake and make some serious gains.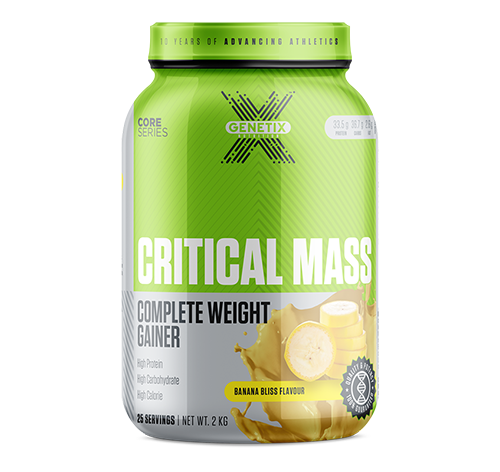 Serious Mass by Optimum Nutrition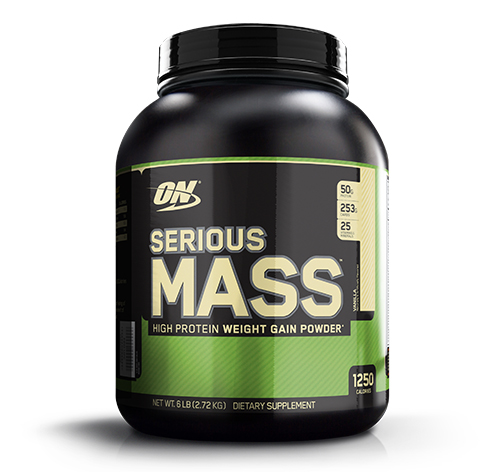 Pack on some serious mass with this formula by Optimum Nutrition. Serious Mass is one beast of a powder, containing 50g of protein and a whopping 1,250 calories per serve.
If you have a fast metabolism and are looking to put on a great amount of overall size, this is the product for you. Serious Mass by Optimum Nutrition can help you increase your calorie intake in a way that is easy to consume.
Creatine, glutamine, and 25 vitamins are also included in this delicious size-building protein supplement.
Natural Mass by Prana ON
If you are vegan or follow a plant-based diet, gains can still be made!
Natural Mass by Prana ON has been designed with you in mind. Transform your physique, lift heavy, and build the body you have always wanted.
Natural Mass by Prana ON contains 30.1g of protein per serve along with a good amount of carbohydrates and fat to ensure that you are fueling your body with enough energy to power through your workouts. You will also be able to find all of the essential amino acids your body requires to rebuild muscle tissue in Natural Mass by Prana ON.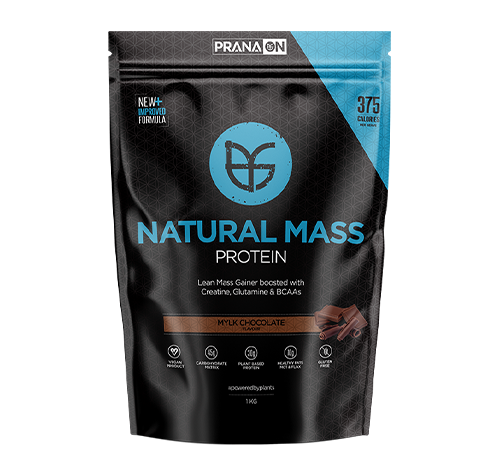 Mammoth by Anabolix Nutrition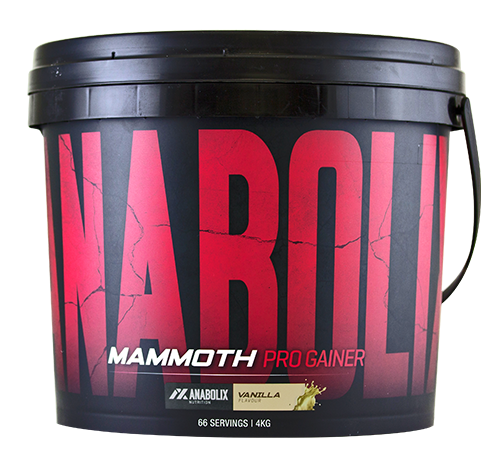 Pack on mammoth muscle mass with this pro gainer by Anabolix Nutrition.
Mammoth by Anabolix Nutrition has been scientifically formulated to contain a 50 to 50 blend of protein and carbohydrates.
This product contains 27.8g of protein per serve and is suitable to use pre-training to fuel your workout as well as post-workout for muscle recovery.
Gain muscle mass without the unwanted fat! Mammoth is the ideal supplement for hard gainers that find it difficult to put on weight.