I spoke with Kwame recently to get the lowdown on best practices to achieve (and maintain!) your best body yet. Kwame brings more to the table than just an impressive physique - Humble, intelligent and super laid back, this multi-talented fitness trainer is all about healthy habits and a long-term perspective.
Get to know Kwame with these fast facts:
He was the youngest person to turn pro in Muscle Mania Bodybuilding

He was an Australian Ninja Warrior contestant

He's been featured on Sunrise

Current BSN Sponsored Athlete

He's multi-talented: Signed to the Global League record label, he's got four songs coming your way (and yes, there's one about the gym!)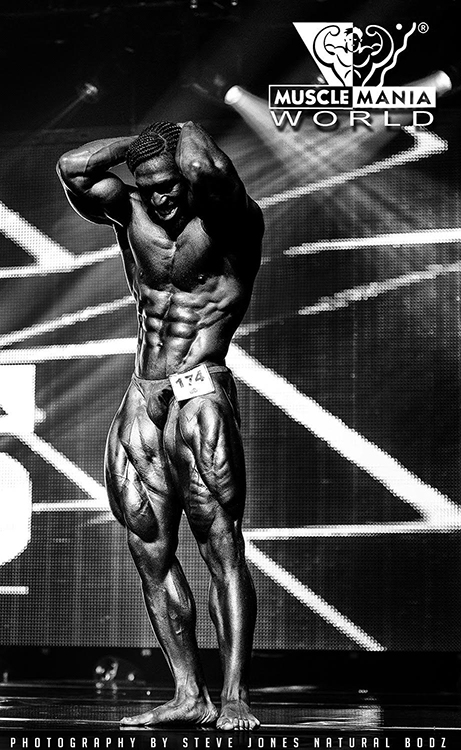 Kwame's top tips:
Don't overdo it:
You may be itching to pack on 10kg of muscle in 10 days, but trying to apply the 'get rich quick' principle to fitness can leave you abandoning your goals quicker than you started them.
Kwame emphasizes that rest and recovery are essential if you want to get superior results. 'Every time you train, you make microscopic tears, so you want to make sure you're resting and repairing', he says. Unless your quads are bigger than Kwame's, if you're pushing it hard every day with no results, it might be time to chill and let your body recover.
What can you do if you're overtraining? Kwame says, 'Rest. Eat well'.
Make it fit your lifestyle:
Your training and nutrition should fit your lifestyle, not the other way around. The most important thing is movement. If you need to schedule some cardio, instead of the same old boring treadmill, why not mix it up a bit? For example, Kwame wants his client to do some cardio, so he asks, 'What is a sport you love?'.
Don't just go through the motions, though. Kwame advises aiming to get better (in this particular case, it was Boxing). When you desire to improve and progress, you are then motivated to keep challenging yourself.
Macros and Micros:
One trap that many trainers or just fitness enthusiasts fall into is putting a significant focus on calories and/or macronutrients (making sure you're hitting those protein, fat and carb goals!) while neglecting micronutrients.
Though micros won't make or break results tomorrow, they positively impact your health and how you feel, plus that all-important performance factor. Kwame seems to have this mastered, focusing on 80% whole foods and 20% fun foods. 80% of whole foods 'because it impacts everything. It's not just about calories in versus calories out'.
Having also studied nutrition, he knows what his body responds to well, and he's used his nutrition knowledge to experiment with what works and what doesn't work for his body. He understands what level of activity he's doing daily, and that allows him the odd indulgence in some of his faves like KFC and chocolate.
Building a healthy relationship with food:
Micros matter, but that doesn't mean you need to 'eat clean' 24/7. Kwame knows restriction leads to bingeing and vice versa... 'it becomes a vicious cycle', he asserts. If you can move away from treating foods as 'good' or 'bad', you're already well on the way to a balanced fitness lifestyle that can give you long-lasting results. Kwame even programs food like chocolate into his clients' programs (unless they're preparing for a competition) so they don't fall into the trap of labelling food.
The term 'balance' came up a few times, and with good reason - how long can one survive on the 'chicken and broccoli' diet? Though Kwame mentioned he has fallen prey to this before, allowing yourself that KFC or chocolate from time to time will give you great results (and sanity)! Don't know where to start? Kwame advises to seek out a coach - you'll save yourself time and energy in the long run!
Celebrate smaller victories:
Remember each milestone is important in reaching your overall goal - make it a habit to celebrate the smaller wins. For example, if you're on your weight loss journey, celebrating each kilo of even 500g lost. It all counts!
Kwame's favourite quote for you to note:
You only win by 1 per cent or 1 second or 1 dollar, but you capture 100 per cent of the victory. The advantage of being a little bit better is not a little bit more reward, but the entire reward - James Clear
Lastly, Kwame wants you to make gratitude a regular habit... he counts it as an essential practice!
What supplements does does Kwame take?
Of course, this wouldn't be complete without a mention of Kwame's supplement stack! Here's what he uses on a regular basis:
Recommended Products:
Where can you find Kwame?
Check out his IG @kwameduah and you're needing to hit the restart button on your fitness goals, you'll love @kxkfitness_ ! You can expect nutritional support, training, and mindfulness to manage that all-important relationship with food in a fun and challenging environment.